Poland-Russia. Social Diagnosis 2015
How Poles see Russia, Russians and Polish-Russian relations? How Russians see Poland, Poles and Russian-Polish relations?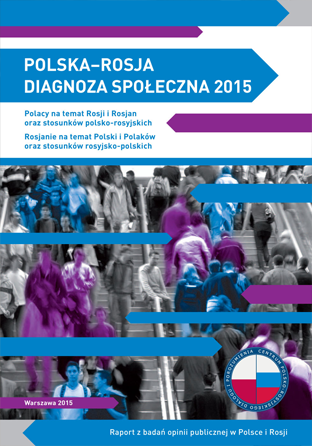 Pierwszy pomiar stanu stosunków polsko-rosyjskich, na zlecenie Centrum, przeprowadzono w listopadzie i grudniu 2012 r. W dwa lata później, w listopadzie i grudniu 2014 r., zrealizowaliśmy kolejną falę badania monitorującego społeczny odbiór relacji polsko-rosyjskich.
Zadania jakie sobie postawiliśmy podczas badania były następujące:
ukazać zmiany w społecznym odbiorze stosunków rosyjsko-polskich na poziomie państwowym oraz na poziomie relacji między narodami (społeczeństwami),
ukazać zmiany obrazu Polski w Rosji,
ustalić obecność stereotypów społecznych w stosunku do obu krajów i ich ludności,
określić zmiany w postrzeganiu bliskości/dystansu kulturowego między dwoma narodami,
określić odbiór społeczny bieżących wydarzeń, związanych ze stosunkami rosyjsko-polskimi.
Polish comment on findings of Polish and Russian research by Łukasz Mazurkiewicz:

The results of the previous research – conducted in late 2012 – gave the impression of "minor stabilisation" in Polish-Russian relations, whereas the survey carried out in December 2014 produced entirely different results, which can be described as profound regression. Responses to all questions, relating directly to the assessment of Russia, Russians and Polish-Russian relations, were far more critical and negative this time around. Also, the views of Russians as regards Poland and Poles have taken a similar, negative turn, although somewhat less significantly. In fact, only opinions unrelated to current events, such as beliefs concerning cultural affinity, remained stable.
Russian comment on findings of Russian and Polish research by Valery Fedorov:
The 2014 tragic events in Ukraine have led to a fundamentally different information backdrop in terms of Russian-Polish relations. The two countries are on opposite sides of the barricades and signs of mutual discontent, criticism, accusations, confrontation – in other words, a general aura of mutual repellence, as was observable in abundance in relations between Russia and Poland in the past - has now come to the forefront. On the other hand, forces of mutual attraction have weakened so dramatically that prospects of cordial relations are now lacking entirely. The conflict between Russia and the West on the Ukrainian issue – and Poland sees itself as an integral part of this – has overshadowed and undermined the attempts aimed at reaching mutual rapprochement undertaken in 2011-2013 by leaders of both countries.
You can download report below:
Poland-Russia. Social Diagnosis 2015 - English version
Polska-Rosja. Diagnoza społeczna 2015 - Polish version
Polsha-Rossiya. Socyologicheskiy diagnoz 2015 - Russian version