Smolensk and Monomakh's Cap – the latest issue of "Mówią Wieki" published in cooperation with the Centre is already available.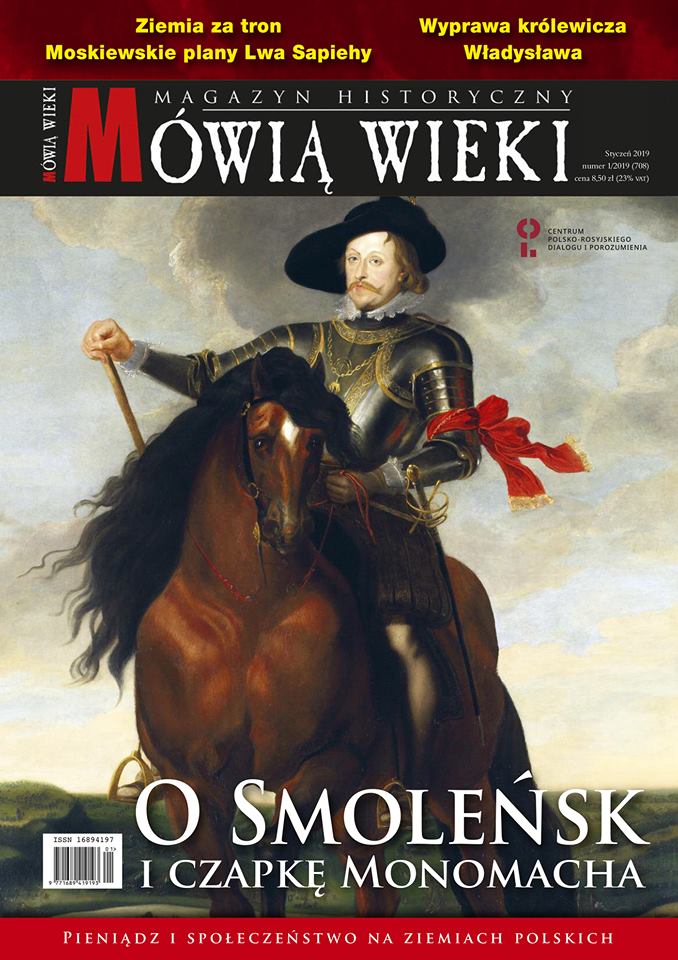 The issue is dedicated to the Republic of Poland's struggle with Moscow at the beginning of the 17th century. It was a time when Poles and Lithuanians gained considerable victories both in armed clashes and in the diplomatic field. Did Prince Władysław of the Vasa dynasty have a chance to wear the Monomakh's Cap, i.e. to sit on the throne in Moscow? In many texts, there appears a theme concerning Smolensk, which today is associated with tragic events – the crash of the presidential plane and the NKVD massacre in the nearby Katyn forest. In this issue, we recall the past history of this fortress city, through which the crucial route connecting Moscow with the West ran. These turbulent times are discussed by specialists from Russia and Poland, particularly: Mirosław Nagielski, Wojciech Polak, Dariusz Kupisz, Przemysław Gawron, Dariusz Milewski, and Tomasz Bohun.
You can read about the history of the Second Polish Republic in a text about Colonel Januszajtis' unsuccessful coup attempt, and above all in the supplement "100 lat polskiej techniki zbrojeniowej" [100 Years of Polish Armament Technology], published under the patronage of Polish Armaments Group. Łukasz Kubacki in his article "Polskie wynalazki lotnicze okresu międzywojennego" [Polish aviation inventions of the interwar period], writes: "Polish construction staff and infrastructure were created practically from scratch, but Poles managed to develop many interesting designs or inventions serving the aviation industry. Some of them are still used today. " A separate text is devoted to the PZL.23 Karaś light bomber.
With this issue, we start a new series of supplements The Money and Society on Polish Territories, created in cooperation with the National Bank of Poland. The series will concern the role of money in the everyday life of Poles at a time when the natural economy was still functioning in Poland, and money was an element of the modernisation of the state. Monthly issues will cover the period from the beginning of Polish statehood to the end of the First Republic of Poland. Prof. Michał Kopczyński is responsible for the substantive supervision of the whole project. In the first issue about the medieval times and what was then used as a payment method, there will be an article – "Jeśli nie moneta, to co? " [If not a coin, then what?] However, the author of the second of the articles "Gospodarka (prawie) bez pieniędzy. Przykład średniowiecznej Polski" ["The Economy (almost) without money. An example of medieval Poland]. begins his paper with a statement which may serve as the theme of the whole cycle: It is commonly believed that the ability to use money together with knowledge of the rules of commodity and market economy are among the most important achievements of modern civilization.
Source: The Mówią Wieki editorial office