5th Football Championship of the Local Border Traffic Area - Lidzbark Warmiński 2016.
On the eve of the most important football event of the season - the European Football Championship in France - y

oung Poles from the north-eastern Poland and Russians from the Kaliningrad region met

in Lidzbark.

For the fifth time the football teams of boys and girls from the pomeranian, warmian-masurian regions and the Kaliningrad region met in Lidzbark on May 18-20 to compete for the championship of the local border traffic area.

- Inspiring children to establish new contacts and to promote positive attitudes towards their peers from other country, but above all, sport and healthy competition are the pillars of the Championship of the Local Border Traffic Area. It is encouraging that for the fifth time dialogue between Poles and Russians will be based on openness and great fun - says the director of the Centre for Polish-Russian Dialogue and Understanding, Ernest Wyciszkiewicz.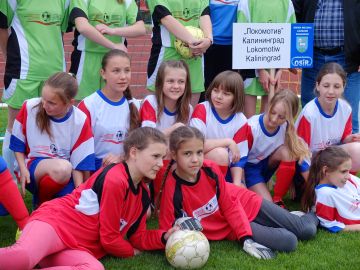 The tournament was organised by the Centre for Polish-Russian Dialogue and Understanding in cooperation with the City of Lidzbark Warminski and hotel complex "Termy Warmińskie". 16 teams and nearly 200 children from Poland and Russian competed in the Championship. Competition was held in two age categories: U-12 and U-14, divided into groups of boys and girls. Poland was represented by four teams from the Pomerania and Warmian-Masurian regions and eight teams from the Kaliningrad region.

The event began with the opening ceremony attended by the Director of CPRDU - Ernest Wyciszkiewicz, Mayor of Lidzbark Warminski - Jacek Wiśniowski, Consul General of Poland in Kaliningrad - Marcin Nosal and attaché of the Consulate General of the Russian Federation in Gdansk - Luca Jezierski. Shortly after the opening ceremony "friendly matches" were held created by combining one Polish and one Russian teams.
Results:
Girls (U-12)
Eneria Olimpico Malbork
UKS Perły Olsztynek
Lokomotiw Kaliningrad
Młodzieżowe Centrum Farward Kaliningrad
Najlepsza strzelczyni - Julia Jędrzejewska - Eneria Olimpico Malbork
Boys (U-12)
FK Bałtika Kaliningrad
Szkoła Sportowa nr 5 Kaliningrad
Szkoła Podstawowa nr 4 w Słupsku
Polonia Lidzbark Warmiński 2
Najlepszy Strzelec - Rusłan Askirow - Szkoła Sportowa nr 5 Kaliningrad
Girls (U-14)
Gimnazjum nr 2 Ostróda
Sparta Sycewice
Młodzieżowe Centrum Farward Kaliningrad
Bałtjunija Kaliningrad
Boys (U-14)
FK Bałtika Kaliningrad
Polonia Lidzbark Warmiński 1 (Польша)
Szkoła Sportowa nr 5 Kaliningrad
Gimnazjum im. Zjednoczonej Europy w Subkowach
Other editions of Football Championship: